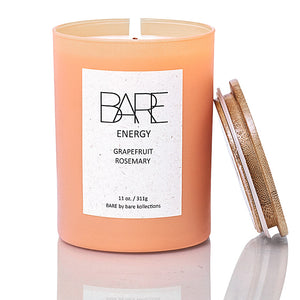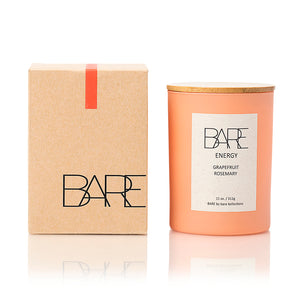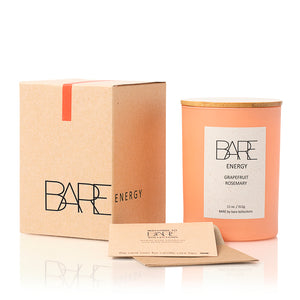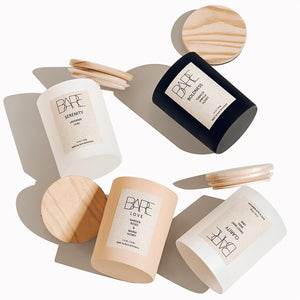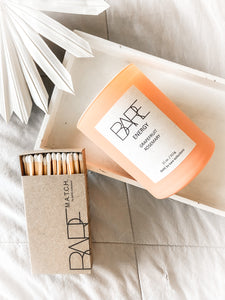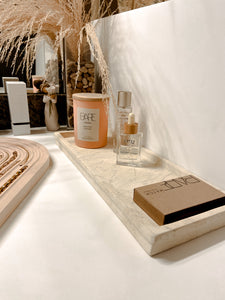 Grapefruit | Rosemary 
The combination of grapefruit and rosemary is a bomb of energy.  It is an uplifting scent that will help you feel alive!  If you can picture the sweet and fresh smell of grapefruit combined with the depth of an herbal aroma then you can surely envision this flavor.  It is a very persistent and crisp scent that you will be able to smell the next day, long after the flame has been put out. 
I hope that this candle gives you energy and helps you create new memories that will last forever...
Soybean | Coconut
All of our candles are made from soybean and coconut wax that come from natural and renewable resources. Bare Kollections candles comply with the stringent environmental standards, including California Proposition 65. 
Recyclable | Biodegradable
Our signature boxes are made of recycled paper, and our labels are printed from recycled coffee bags.  Each candle comes with a resealable biodegradable lid.
Box size: 3.75" w x 3.75" d x 4.75" h 

Shipping weight: 1.6 lbs 

Candle weight: 11oz (311 g)

Burn time: 70 hours

Box: recycled kraft paper

Jar: matte finish painted glass

Lid: bamboo 

Product testing: comply with the Proposition 65

Care: Tips included with packaging
Refunds Only | No Exchanges
Items purchased on our Web site can be refunded with a receipt within 30 days of purchase.
To get a return label, use our contact form, or a chat function.

You can use the original packaging, or your own, just make sure that you place the label on the package.

When you're ready, drop off your item at any UPS location. The staff will scan your return label and give you a receipt.

It may take 3 to 5 days to get a refund, after the returned item reaches the fulfillment center.

 If you hit a snag with your return, give us a call at 323.705.3555
Standard shipping: 
Item arrives in about 4 to 7 days.  Please be aware that your packet may come from our Amazon warehouse, and the packaging may say Amazon, but rest assured it is your order from our Bare Kollections website.